Laugh Giraffe Journey
Lucy, Dillon the dragon and Tapestry the Unicorn discover the existence of giraffes, although they have never ever seen a live giraffe. Together, they decide to write fun, funny and fanciful jokes about this fantastic and fascinating new creature they have just discovered. They hope their many jokes will enable everyone who hears and reads them to smile and laugh but also to help people around the globe realize that giraffes are facing extinction and need our help to survive and thrive.
Also available from: Northshire Books | Amazon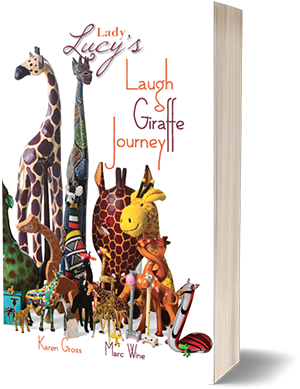 Laugh to Learn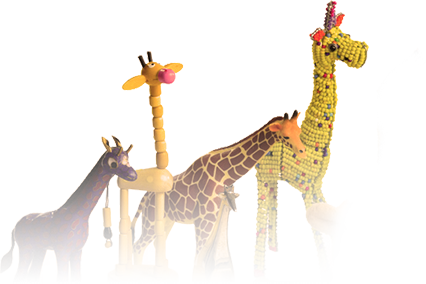 Q:
Click to reveal answer…
Q:
Click to reveal answer…
Q:
Click to reveal answer…
For Kids and Teachers Alike
Lady Lucy's Laugh Giraffe Journey is a fun, funny and fanciful joke book that showcases the principle: Laugh to Learn.
First of all, giraffes are, by nature, funny creatures and so the jokes play off of the height of giraffes and their long long necks and their smiles and horns and friendly appearance.
The book also showcases the myriad of ways artists have created giraffe sculptures, with wonderful photographs from the authors' giraffe collection. There are giraffes made of wood, leather, beads, glass, plastic, ceramics and bottle caps, among other medium.
While it is surprising to many people, giraffes face extinction; there are only 100,000 giraffes at present in the wild, and their population has been declining in recent years.
Surely we can agree that saving giraffes is important and a portion of the net profits from this book go to the Giraffe Conservation Foundation, which co-sponsored this book, to help them in their efforts to save giraffes. Enjoy! Laugh! Learn!
Want to know more?
🌎 Around the Web
🎧 Interviews With Karen Gross
📚 Download Parents & Teachers' Guide
The Giraffe Conservation Foundation (GCF) is the only organization in the world that concentrates solely on the conservation and management of giraffe in the wild throughout Africa. https://giraffeconservation.org/
A portion of the net proceeds from the sale of this book are being donated by the authors to the Giraffe Conservation Foundation to assist this organization in its efforts to prevent giraffe extinction.